Where to start? What a last few days it has been. And indeed what a year we have all had since I last wrote a blog. Are we out of Covid yet? It certainly doesn't feel like it. Mask on, mask off. 1 in 50 Brits have it – including two of my own colleagues. But if there is one thing you can rely on it's that Seventh Art keep on doing what we do which, no matter what, is to make and distribute documentaries. We have navigated the choppy waters of the Coronavirus well enough, and have made some super films nevertheless – such as RAPHAEL REVEALED, FRIDA KAHLO, SUNFLOWERS, and, most recently, THE DANISH COLLECTOR.  But, without question, our biggest achievement is that we finished a film that I genuinely thought at various times was impossible: MY CHILDHOOD, MY COUNTRY – 20 YEARS IN AFGHANISTAN.
What a wonderful stamp of approval. These are two excellent festivals, very much respected. The competition to get in is fierce and to actually win is simply fabulous.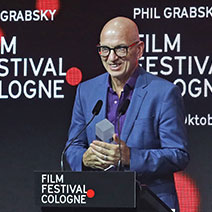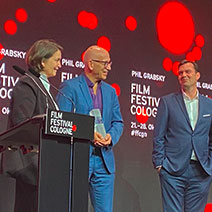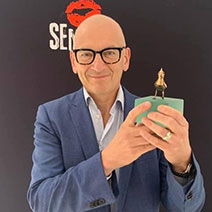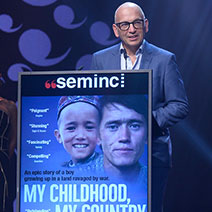 It was also such a treat to actually watch the films with an audience. They loved it – indeed in Valladolid, they gave it a long standing ovation which left me rather embarrassed. Of course it not me that is moving people – it is Mir and his life story. My co-director Shoaib Sharifi and I certainly have had a very tough journey making this film – and there are others I have to point out in a moment who were absolutely essential – but it is Mir who has lived and struggled, persisted and laughed his way through two decades in that extraordinary, and extraordinarily tough, country.
I can think of various moments 2 or 3 years ago when I thought we simply had to cancel the whole thing. Barely any funding, difficulties in filming, and various other issues. A few deep breaths, a few last gasp attempts, and an extraordinary Head of Production in my wife Amanda who somehow just kept the whole thing moving steadily forwards.
Let me though point out a few others who were critical to this production. Without Amanda, as I mentioned, there would not have been the first film never mind the second nor third. Without Clive, the editor, I don't know what we would have but it wouldn't be this – or we'd have simply stopped. If anyone wins an individual award for this film, it should be him.  Working with snatches of footage that would arrive from Kabul (and needed transcribing, translating, subtitling before he could even start with it) was such a task. But it was the ability to hold multiple stories in his hands, moving them steadily along with a cinematic feel, an emotional cloak and an intellectual drive, lightly delivered so our audience would not be overwhelmed or confused; that ability is what makes Clive a great editor.
Then I have to thank the one commissioning editor who had faith in this film. Jutta Krug from WDR Germany. I couldn't get a UK broadcaster, nor (still) a US one. Even reliable friends from the past would not commit up-front when I needed them most. Now, of course, they are all showing it. That's great but we needed your support 5 years ago…  Jutta, though, was there from the start and never wavered – even when we went quiet and she had other film-makers banging on her door, including those with other Afghan ideas. But she always said: I trust Phil and his is the only Afghan film I am backing. I can't tell you how much that meant and means. More than that, though, she was never content until the film was as good as she thought it could be. She watched every cut carefully and gave her notes with care and authority – even when it meant more hard work on our part. Jutta, without you, this film would never have won these two prizes this week and, more importantly, would not be bringing Mir's life, his family's life, and a unique inside look at Afghans and Afghanistan to a worldwide audience. I would also like to thank an ex-colleague of hers, Sabine Rollberg, who was also always a staunch defender of our work and I doubt this film would exist were it not for her steely moral core that motivated her to help us, against all sorts of obstacles. Broadcasters need to find such commissioning editors and support them through thick and thin. I would suggest it has become less true than it was 20 years ago. It's a great shame because TV remains so hugely important in moulding the society we live in.
Mel Bradley has been such a brilliant colleague – always enthusiastic and insightful, and a wonderful help finding archive and asking the right questions. Angela and everyone at Seventh Art are simply top class – and time and again prove themselves with modesty and calm. Then the team at The Edit who oversaw the complicated post production, and Asa who did the score, and many others on this long journey who have helped. But, above all, I want to express profound thanks to one person: my co-director Shoaib Sharifi.
How he and I met is a remarkable story.
Little did I know that when I was first filming in Bamiyan, there was also a young Afghan filmmaker and journalist in town. Our paths never crossed, though I did once (by accident) film a car he was travelling in (a shot that is actually in the final film). It wasn't until I hosted a screening in 2004 of the first film, 'The Boy who Plays on the Buddhas of Bamiyan', at the superb Frontline Club in London that I met him. He stood up at the end of the film and said" 'I know that family too'.  And indeed he did.  Some coincidence. I got talking to him and quickly saw in him something special. I am always questioning myself, and sometimes lack a bit of confidence in my own abilities, but I do sometimes make great choices in who I work with. This was one such moment: Shoaib has over the past 15 years proved himself again and again a wonderful film-maker, a wonderful friend and a wonderful human being. Without him there is no film. Simultaneously he rose to presenting and producing other films – including 2 BBC Panaromas about Afghanistan.  More than that, he became first, the voice of BBC Persia (and thus recognised by just about every Afghan) and then the Kabul station chief for the BBC with hundreds working for him. He remains in Kabul with no intention of leaving the country he loves so dearly. It was such a shame he could not be in Cologne or Valladolid but there are no commercial flights out at the moment but I hope there will be other occasions for him to attend and receive the applause he deserves.
So, what does one do next? Well, my number one objective is to get a channel in the USA to show it. So maybe these awards will help. Let's see.
As for Mir, well, he is staying calm in Kabul and adapting as best he can to the changed circumstances. Every day, little snippets of news emerge from Afghanistan and it is hard to form a complete picture just yet.
For more information about the film visit: www.mychildhoodmycountry.com